Cloverkey Announces Grand Opening of New Shop at University of Rochester Strong Memorial Hospital
Friends of Strong gift shop opens with new operating partner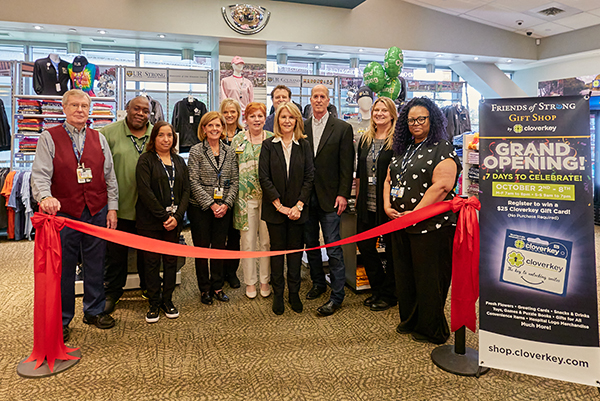 Carrollton, TX – Cloverkey, an industry leader in hospital gift shop management, is excited to announce the grand opening of its newest store located at the University of Rochester Strong Memorial Hospital. This expansion not only represents the brand's commitment to providing quality gifts and essentials for patients, staff, and visitors but also highlights its focus on partnership within the hospital community.
"We offer more than just a superior gift shop experience; we're a haven of joy, comfort, and support," says Justin Cohen, CEO of Cloverkey. "Our partnership with institutions such as UR Strong Memorial allows us to serve and connect with the community in profound ways."
This latest venture by Cloverkey is in partnership with the Friends of Strong, a volunteer organization advancing the mission of Strong Memorial Hospital. The Friends of Strong have a nearly 100-year legacy of supporting the hospital and, as an extension of that mission, Cloverkey is making a direct impact on the lives of countless individuals in the Rochester community, including continuing such programs as Round Up for Strong and the annual Pet Therapy Calendar program.
Under the leadership of Kim Schuler, Chief Revenue Officer, the new store showcases an expanded inventory, including an extensive range of hospital-branded logo merchandise from both UR Strong and UR Golisano Children's Hospital. "Patients, visitors, and staff can now enjoy a wider selection of products, from apparel and gifts to personal care essentials to flowers and greeting cards – everything you expect in a premier gift shop. Our aim is to cater to everyone's needs, ensuring they find just the right item, whether it's a gift for a loved one or a personal treat," says Schuler.
Furthermore, understanding the varying schedules of hospital visitors and staff, the new Cloverkey location will offer expanded hours of operation, ensuring everyone has ample opportunity to explore and shop. And from the opening day, the gift offered a robust eCommerce site that allows online purchases of virtually every item available in the gift shop for same-day delivery on campus.
Gwynne Gillette, Cloverkey COO, shared, "From our inception, we have been dedicated to including innovative retail technologies as an enhancement of our core hospital gift shop offering. Our collaboration with institutions like UR Strong Memorial showcases that commitment as well as our success in providing an offering for the entire hospital community. We're constantly adapting and expanding our services to provide the best for our customers."
---
About Cloverkey: Cloverkey is a hospital gift shop outsource partner based in Carrollton, TX, a Dallas suburb. Cloverkey offers a turnkey gift shop management program that embraces partnership, supports special hospital requests, and always operates with honesty and integrity. Through its relationship with its sister company, Kelli's Gift Shop Suppliers, Cloverkey has access to thousands of individual retail items from more than 500 distinct vendors and a reputation in the retail industry that allows it to work with any new vendor as needed. For more information visit www.cloverkey.com or send an inquiry to [email protected].
About Kelli's: Headquartered in the Dallas suburb of Carrollton TX, Kelli's is a gift shop distribution business established in 1999 by the founders of Lori's Gifts to bring their merchandise selection expertise and buying power to individual gift shops across the country. With more than 10,000 retail partners, Kelli's product is found in virtually every hospital gift shop in the USA as well as resort, hotel and casino gift shops, pharmacies, other specialty gift shops and boutiques as well as through Amazon. For more information visit www.kellis.com or send an inquiry to [email protected].